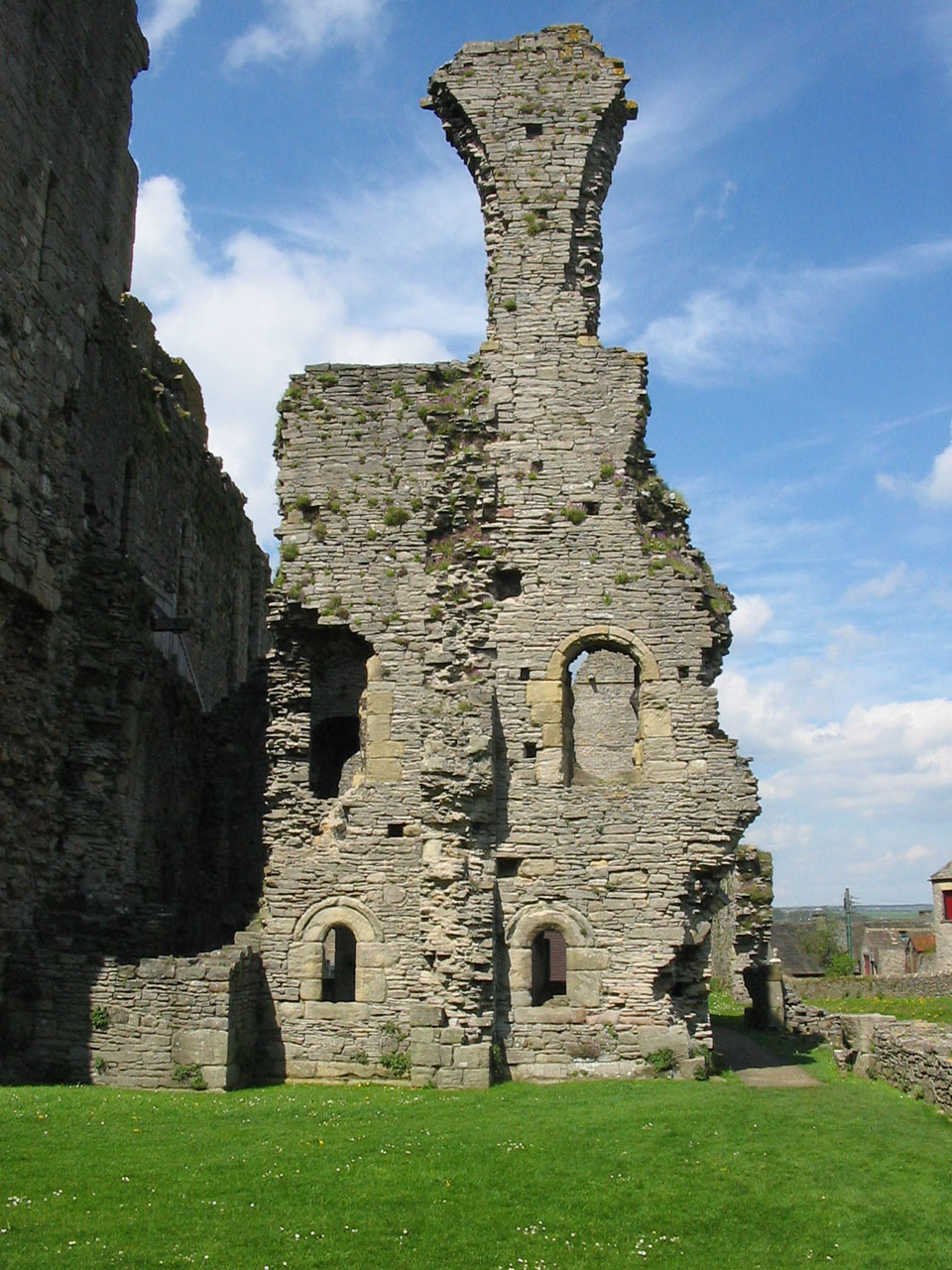 So, let's talk about Ruins!
     The #1 key to doing well in Ruins is to eat up as many chests as you possibly can. Chests come in a few different flavors (from best to just eh…)
Gold

with key

(Relic) – available on all tiles

50,000 locked gems
0 raw gems
4 random goodies (better)

Gold with no key (Deluxe) – available on yellow and blue tiles

4,000 locked gems
80 raw gems
4 random goodies (good)

Blue (Exquisite) – available on all tiles (a lot more on blue/yellow)

3,000 locked gems
60 raw gems
3 random goodies (mid-level)

Brown and Gold (Durable) – available on green and white tiles

2,000 locked gems
40 raw gems
3 random goodies (lower level)

Brown (Obsolete) – available on green and white tiles

1,000 locked gems
20 raw gems
3 random goodies (lower level)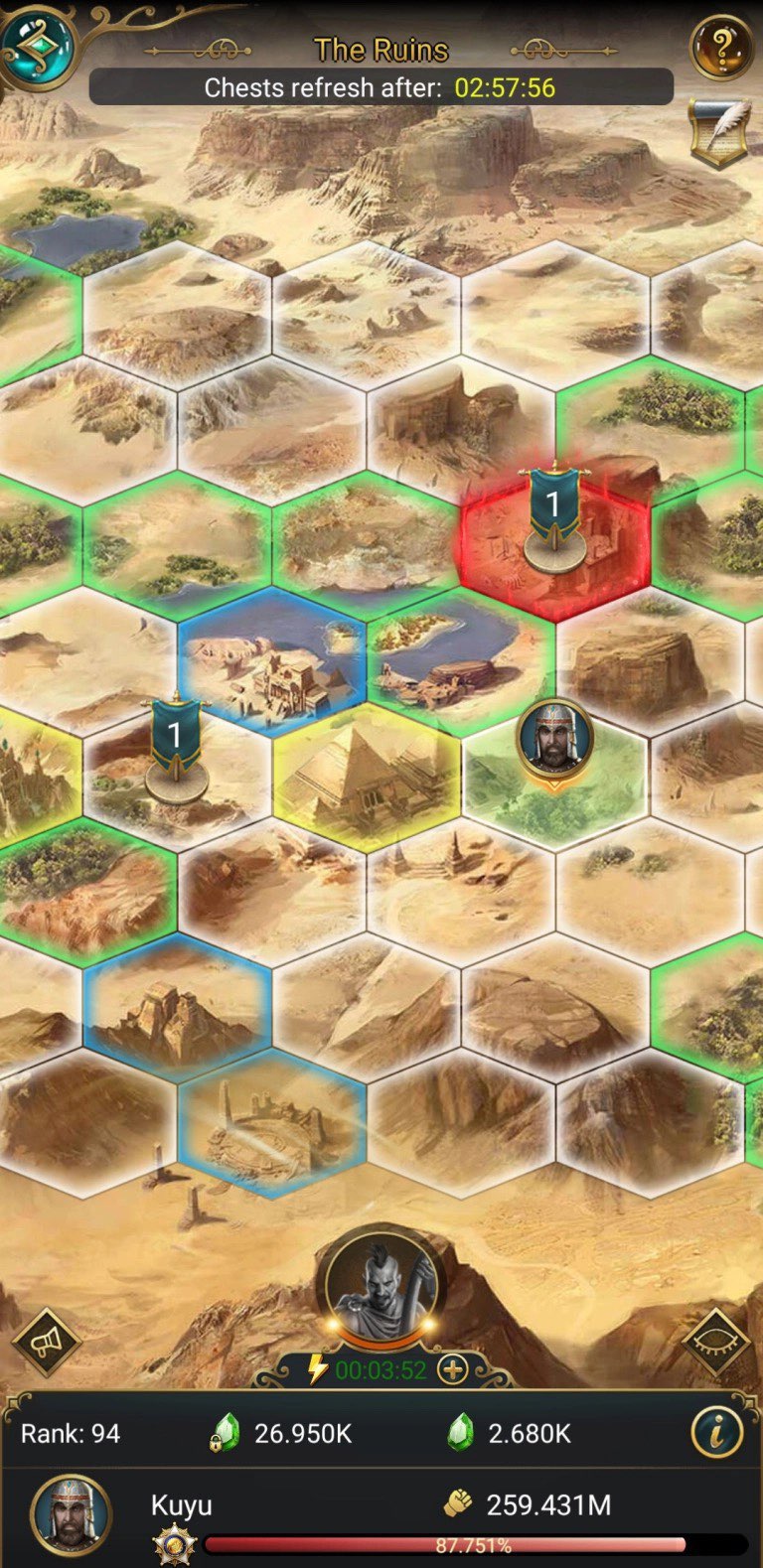 Yellow tiles are the best place to find a lot of chests – with a lot of gold (no key) and blue

Blue tiles

have a lot of chests – many of them blue

Green tiles

have many chests – some blue, but a lot of the brown type
White tiles have some chests – mostly brown and a few blue
If a tile has a blue banner on it someone from your union who is alive is on that title.
If it is outlined in red, it means that either:
there are a lot of murders happening there or
there are a lot of raw gems in that space
When you enter a new tile, you'll either see:
a chest – yay, open it up and admire your goodies;
a weird Ruin Guardian, General, or Lord – you should ALWAYS kill these peeps because they do no damage to you and give you some gems/maybe goodies;

Guardian (100 locked gems);
General (150 locked gems and one random goodie);
Lord (4,000 locked gems and some really nice goodies) – these dudes appear at random intervals (when the bottom circle on the main map fills up) and you will know how many of them are on your tile with you by a special helmet icon on the bottom left corner

an opponent – they will show up in

red

. You can either fight them or continue searching. I tend to run away because it isn't usually worth it to kill them (though if there are a bunch of chests on that tile and you are the only two there…might make sense to kill them so you don't keep running into them/wasting energy). I try not to kill people from our server because I want 310 to do really well, but sometimes accidents happen; or
an ally – they will show up in

blue

. I HATE being on the same tile as an ally because the game is programed to make you run into an opponent on a consistent basis…so, you are going to waste energy running into each other.
Key Tips:
Ruins is open for 12 hours each day. It opens 2 hours before hunting opens and locks 2 hours after fortress opens. When ruins locks, all raw gems will be converted to locked gems. You won't be able to access ruins again for 12 hours.
The day starts with 73 tiles (see color code above) and ends with only 19 – this is designed to push players toward each other and ensure that there are battles. Map "collapses" happen 4 hours and 8 hours after Ruins opens.
Chests refresh every 4 hours throughout the day. You want to make a run for chests as soon as they refresh each time
Start the day with your wimpiest vizier and, if a jerk kills you, move up in power 1-level at a time (caveatIf there is a jerk that keeps killing you and you just wanna take revenge, then throw in a stronger vizier)
Don't go chasing raw gems until the very very very end before Ruins closes for the day. The last 5 minutes (really the last minute) are the only time you should be worried about raw gems – whether you have them or are trying to take them from someone else.
It costs 5 energy to jump from tile to tile but a trick during the day to move for free is to get killed….you can do that by suicide (attack a stronger player on your tile), once you are dead, don't respawn on that tile. Instead, back out to the map and pick whatever tile you'd like to try.
You get to use your viziers once each day in ruins, but once they die, you can only use them again if you have bandages. To resurrect your strong guys, you just need to scroll all the way down in your list of available viziers and click on the vizier you want and then click to use your bandage.
If you want to go for Beryl (and I hope to someday have a whole gaggle of them on 310), then you should hoard, hoard, hoard gold relic chest keys. They provide 50,000 locked gems and are vital to get you high enough up in the rankings to place first.

This guide was developed by Jassholio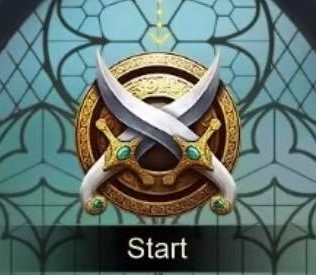 Union Brawl So let's get started about the newest addition to the Game of Sultan's universe, Union Brawl!       Union Brawl is an opportunity to work together as a union and fight other unions using your top five powered viziers. This event is similar to both...